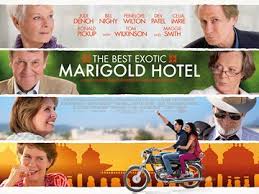 Meget egnet søndagsunderholdning siger jeg bare. Feel-good over hele paletten. Jeg kan slet ikke få nok af Maggie Smith, og efter afslutningen på femte sæson af Downton Abbey har jeg haft abstinenser. Så er det godt, at hun fylder så meget i The Second Best.
Derudover er der jo farverne i det eksotiske Indien og de mange dejlige indiske skuespillere. For slet ikke at tale om den fantastisk flotte dansescene sidst i filmen. Dirty Dancing Go Home! Stemningsmæssigt minder filmen om Lasse Hallströms The Hundred-foot Journey. Hvis du vil have feel-good uden samtidig at få hjernen reduceret til grød, er det en god anbefaling. Vil du gerne have noget med dybde og noget at tænke over, så snup en anden film. Der går noget for enhver smag i Grandteatret. Etteren lejede jeg på Itunes.
Hvis du er ung, har du måske ikke opdaget, at filmverdenen for alvor har fået øjnene op for en relativt ny, meget købestærk målgruppe, gråhætterne. Det kan du overbevise dig selv om ved at gå en tur i Grand eller Dagmar. Kun ved ganske særlige lejligheder er flertallet af biografgæsterne under 40. Og flere og flere film har hovedpersoner, der selv er gråhætter.