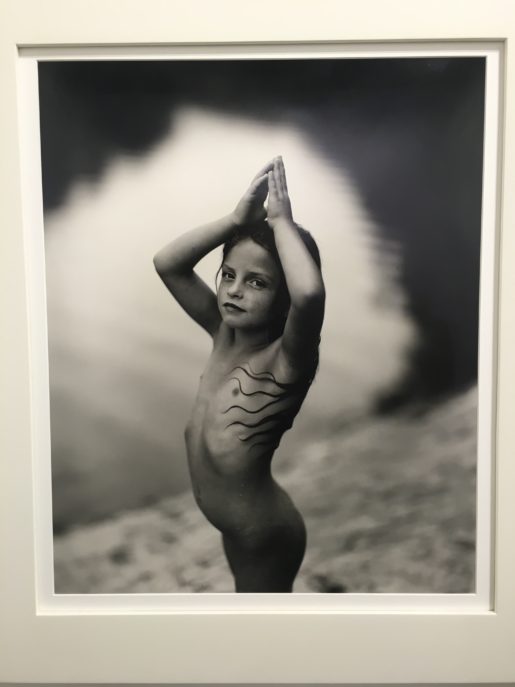 Jeg har været med familien en weekend i Basel til kunstmessen, Art Basel, der denne gang "udkom" i sin 46'ende udgave. Jeg har aldrig været der før og ved ikke heeelt, om det er noget, jeg har lyst til at gøre igen – mest fordi det var så stort – der var simpelthen alt for meget kunst. Niveauet var meget højt, og jeg så rigtigt mange flotte, sjove, spændende, originale og inspirerende værker. Men selvfølgelig også en hel del af det, som Jr. med en samlebetegnelse kalder "Meh".
Billedet øverst, den lille pige af Sally Mann, var nok et af de dejligste billeder, vi så. Umiddelbart kunne det være enhver idiots feriebillede i s/h Instagram-lækkerhed, men så alligevel ikke. Der er en grund til, at Sally Mann er blevet en stjerne på fotografi-himlen.
De ni billeder i "galleriet" (beklager min elendighed som fotograf og endnu større elendighed som billedredaktør (billederne ligger på siden i mobilversion???)) er alle kunstværker, jeg af en eller anden grund synes om (klik og se i stort format). Jeg kan ikke altid forklare årsagen – hvilket måske er en af årsagerne til, at jeg ikke er kunstkritiker. Det enorme billede af Richter, som jeg kan takke Louisiana for, at jeg har lært at kende, var jeg helt vild med. Jeg forestiller mig en kæmpevilla med en ubrudt gang så lang, at det kunne hænge der i al sin majestæt!
Herunder er så et billede, jeg gerne vil have forklaret, for jeg fatter simpelthen ikke, hvad meningen er.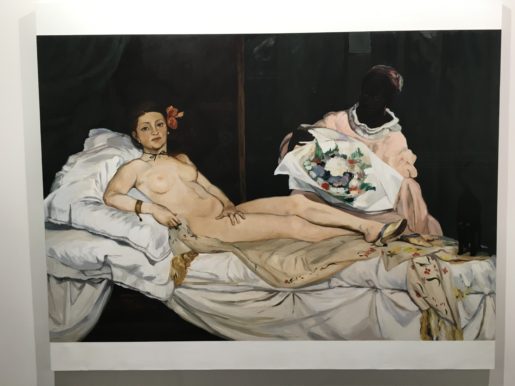 Jeg har ikke brugt timer på det, men jeg har da sat Manets billede (Olympia, 1863) ved siden af og kan ikke se forskel? Titlen på værket betyder noget med spanske undertitler, men forkortelsen V.O. forstår jeg ikke, og 1-tallet eller I'et til slut? Billedet af Gamarra er olie på lærred, præcis som originalen.
(Senere tilføjelse: V.O. står for Version Originale, som bruges i "dubbing-landene" til at angive, at en film ikke er dubbet, men er med undertekster. Så titlen er altså Originalversion med spanske undertekster 1. Det er muligvis sjovt?)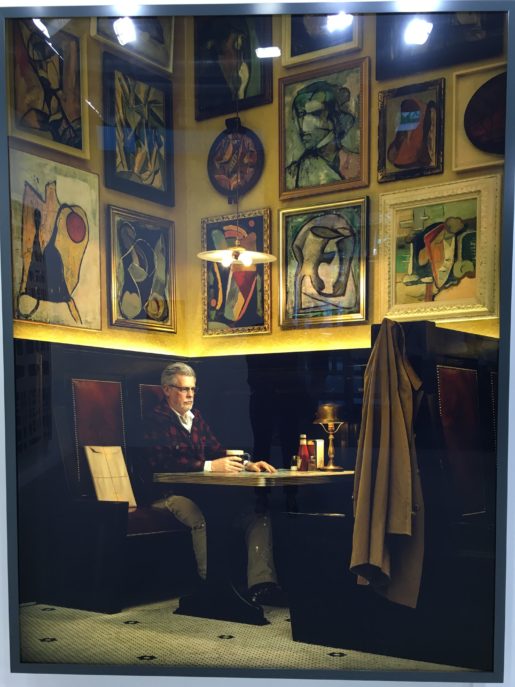 Jeg kunne rigtigt godt lide billedet herover og prøvede virkelig at få et fotografi uden for mange reflekser. Men som det ses, lykkedes det ikke særlig godt. Der er noget lidt mystisk og dragende og samtidig meget genkendeligt ved billedet – man kommer uvilkårligt til at tænke på kunstnerbarerne i indre København, men også lidt på stemningen i Hoppers Nighthawks. Efter at have læst lidt om Rodney Graham og set nogle flere billeder på nettet kunne jeg virkelig godt tænke mig at se en særudstilling med ham.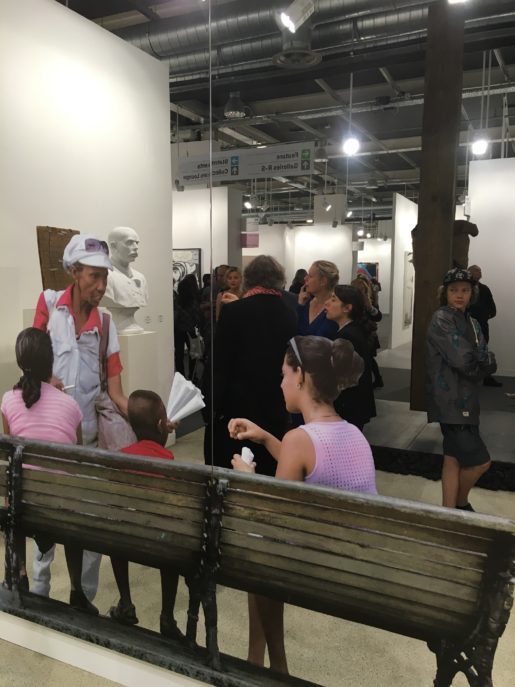 Det sidste billede er malet på et spejl. Regn selv ud, hvad der hører til i værket og hvad der er spejlets refleksioner. Det fungerede ret fantastisk på messen.
Derudover har jeg blot at tilføje, at Basel viste sig at være en ret dejlig by at besøge – det kunne man godt gøre, selvom der ikke var kunstmesse.