Ja, for fanden, skrælning er helt okay! Selvfølgelig med kildeangivelse, men spar os for masser af anførselstegn og for, at almindelige avisartikler/blogindlæg m.m. skal ligne videnskabelige artikler med dusinvis af referencer. Skrælning og plagiat er ikke det samme. Og inden man kommer op på den høje hest, kan man lige tænke lidt over, at der kun er et begrænset antal måder, man kan give udtryk for den samme holdning på. Hvis jeg skrev ledere eller opinionsartikler om aktuel politik, ville jeg helt sikkert have gengivet mange af de samme pointer, som fx kan findes i en leder fra The Guardian eller The Economist. Simpelthen fordi vi følger de samme opinionsdannere og har samme grundholdning til mange emner – og følgelig sammenlignelig sprogbrug. Og det er almenmenneskeligt at internalisere klogt udtrykte synspunkter, der matcher vores egne!
Efter internettet og især efter, at det er blevet så nemt at holde øje med internationale medier via diverse aggregerings-hjemmesider, først og størst Facebook, er det blevet en ny sport for visse mediepersoner at kigge journalister, de ikke kan lide, efter i sømmene. Det er også blevet meget nemmere, fordi man ikke skal sidde med to stykker papir ved siden af hinanden og markere med rødt, men kan lave søgninger i mange dokumenter på kort tid efter særlige søgeord og navne. Ikke stor journalistik, hvis I spørger mig.
Først og størst var hetzen mod Annegrethe Felter Rasmussen, hvor tre medier undsagde og fyrede hende samtidig uden overhovedet at have efterprøvet anklagerne. På Journalisten, det ene af de tre medier, har de dog haft ære nok i livet til efterfølgende at foranstalte en efterprøvning. Den frikender sjovt nok Annegrethe og til Journalistens ære skal det siges, at chefredaktør Øjvind Hesselager har tilbudt Annegrethe hendes (freelance)job tilbage. På Information og Altinget (de to andre medier, der fyrede Annegrethe) har man endnu ikke fundet anledning til at fortælle læserne dette. Tilbage står, at alle, der har læst om sagen, men ikke følger Journalisten eller Annegrethe selv, IKKE får at vide, at der ikke var fugls føde på anklagerne, udover det, som Annegrethe selv har "tilstået".
En af Annegrethes hårdeste anklagere, redaktør Søren Villemoes på Weekend-Avisen, blev kort efter taget i selv at plagiere. Denne sag fik ikke andre konsekvenser for Villemoes, end at det var temmelig pinligt for ham. Men pinlighed påvirker ikke evnen til at betale husleje.
Forleden var det så Politikens chefredaktør, der røg på anklagebænken, denne gang anklaget af Mikael Jalving. Et besøg på sidstnævntes Facebook-profil sker helt for egen regning. Selv fik jeg en akut depression efter mit besøg. Han er et glimrende eksempel på, hvordan misogyni og Islam-had går hånd i hånd yderst på højrefløjen. Jeg forstår faktisk ikke rigtigt sammenhængen, men jeg er jo så også både radikalt sindet og feminist. Læs Bo Lidegaards tilbagevisning.
Tilbage til skrælning. Jeg kunne slet ikke forestille mig en tilværelse som videns-junkie uden! Jeg har hverken tid – og heller ikke altid lyst eller inklination – til at læse alle de mange, lange, kloge artikler og bøger, der skrives om alverdens emner på alle sprog. Derfor elsker jeg, når journalister og anmeldere skræller bøger og artikler for mig, så jeg kan blive (lidt) klogere uden at læse et fembindsværk om første verdenskrig eller et svært tilgængeligt #longread om melatonins gavnlige virkninger. Det gælder naturligvis i særlig grad artikler, der er skrevet på andre sprog end engelsk eller skandinavisk eller som befinder sig bag en tyk paywall (fx videnskabelige artikler).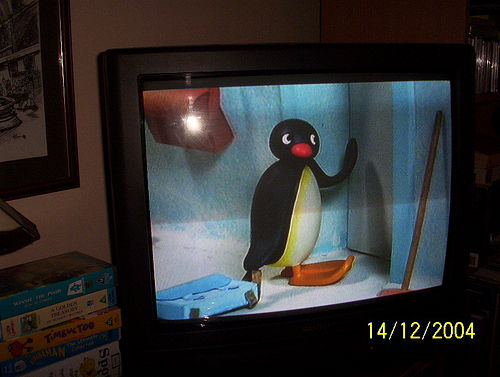 Bare for at nævne et lillebitte eksempel på at *alle* gør det (og bemærk, jeg har IKKE ondt i r****), så er der en lille historie (ikke online) i Politiken d. 13/1 om ophavsmanden til Pingus sprog og stemme. Den er mere end skrællet fra en historie i The Guardian, som journalisten da også nævner. Og hvad så? Sådan en petit-historie havde jeg ikke selv set i The Guardian, og i Politiken så jeg den kun, fordi den var ledsaget af et kæmpe billede af nuttede Pingu. Men journalisten vil ikke blive forfulgt og hængt ud, gætter jeg. Hvorfor? Historien er ukontroversiel og apolitisk.
Mon ikke der er masser af tvivlsomme artikler at hente, hvis folk på venstrefløjen og andre af os forkætrede humanister og kulturradikale gad bruge vores kostbare tid på at sammenligne output fra Jalving, Selsing, Den Korte Avis og alle mulige andre højrefløjsdebattører med output fra diverse internationale højrefløjsmedier og blogs? Jeg ville dog aldrig påtage mig sådan en opgave og heller ikke tilskynde andre til det. For det er jo meningsløs tidsspilde! Til gengæld ville det sørme være rart, hvis medier i højere grad gad efterprøve og afsløre løgn og propaganda.
Mange, mange journalister jeg kender (til) er vilde med fodbold. Så hvad med at gå efter bolden, folks, i stedet for m/k'en?