En anmeldelse og anbefaling af Stine Liv Johansens lille bog om børn og digitale medier. Den kom i maj, men jeg har desværre været lidt en sinke til at få læst den og skrevet om den.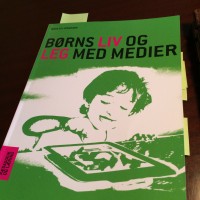 Bogen handler mest om førskole- og indskolingsbørn og deres liv og leg med iPads og en advarsel er på sin plads – det er en akademisk bog rettet mod forskere og interesserede pædagoger og lærere. Men vi andre – fx os der "bare" er forældre – kan også tage noget med hjem, hvis vi kan mande os op til at læse sådan en bog. Det ser ikke ud til, at der nogensinde kommer en bog om dette emne beregnet på almindelige læsere. Det synes jeg er ærgerligt – og ikke kun fordi jeg gerne selv ville have skrevet den.
Stine har observeret en børnehave, der fik udleveret et "sæt" i form af en fin kuffert indeholdende en iPad med et par film-apps og lidt andet materiale, samt en flok børn på et fritidshjem, der alle havde fået en iPad. Hun taler meget med børnene og lidt mindre med de voksne, og der kommer en del interessante observationer ud af det. Jeg vil gå let hen over børnehaveobservationerne, da mindre børn  ikke er min kernekompetence, men den vigtigste lære af eksperimentet med kufferten er, at man kan så meget mere med en iPad og en flok rollinger end de fleste pædagoger nogensinde havde forestillet sig.
Et af bogens helt centrale budskaber formulerer forfatteren selv således:
Jeg mener, det er uhensigtsmæssigt, når brugen af teknologi og digitale medier skal "forsvares" ved at sætte et lærings- og udviklingsperspektiv op i forhold hertil.
Hvad er det for en mærkelig idé vi har fået i forhold til digitale medier, at børn med vold og magt skal "lære noget", hver gang de tager en iPad i hånden? Hvorfor må de ikke bare lege? Vi forlanger jo heller ikke af en pakke LEGO, at den skal have læringspotentiale? Vi ved, at børn lærer af at lege – men det er som om den viden er glemt, så snart legemediet er digitalt.
En af de markante ting, Stine bemærkede i sit studie af børnene i SFO'en var, at intet barn nogensinde sad alene med sin iPad. Børnene sad ofte i par, ofte flere, men aldrig alene. Det har altså ikke noget på sig, når det påstås, at digitale medier har en isolerende virkning på børn.
Bogen kommer med en del gode argumenter for, hvorfor vi voksne skal sætte os ind i, hvad børnene laver og sætte os ind i, hvad de kunne lave, hvis de vidste det. Hun beskriver en episode med en dreng, der flipper fuldstændig ud, da et andet barn i bygningen smadrer hele hans bygningsværk i Minecraft. En pædagog forsøger at hjælpe ham med at finde ud af, hvem det er, men da det ikke lykkes, hjælper pædagogen ham lidt på vej med at bygge nyt og udviser i det hele taget forståelse for, hvorfor drengen bliver så ulykkelig. Forældre og pædagoger der intet aner om, hvad børnene laver på computeren eller iPad'en, kan ikke udvise samme forståelse og vil afvise drengens ulykkelighed som skaberi.
En anden ting, vi voksne går glip af, når vi afviser at interessere os for, hvad børnene laver, er indsigt i vores børns digitale kompetencer og mangel på samme. Vi får ikke rost dem for det, de er dygtige til, og får ikke hjulpet dem videre, når de støder mod forhindringer. Kan vi ikke selv hjælpe, så kender vi nok nogen, der kan! Et andet argument er, at børnene typisk griber det nærmeste – de orienterer sig næsten udelukkende i Top 50 af gratis apps. Det vil sige, at der kan være fantastiske – fx dansk udviklede – apps, der aldrig kommer til børnenes kendskab, fordi de ikke kan læse eller læser dårligt og ikke ved, hvordan de skal søge efter nye apps. Vi som forældre og pædagoger og lærere må holde os orienterede, så vi kan foreslå nye apps/spil til børnene, som de ikke finder af sig selv.
Stine Liv Johansen slutter af på følgende måde:
Det er nødvendigt, at vi som voksne bliver i stand til at følge med børnene ind i medierne, og at vi lader os inspirere af deres måde at anvende dem på, men også at vi er klar til at gå foran dem og vejlede dem, når det er nødvendigt.
Jeg kunne ikke være mere enig!
Du kan følge Stine på Twitter.