En nu afsluttet serie på HBO i syv afsnit. Det er værd at tegne abonnement på HBO (første måned gratis) bare for at se denne serie! Personligt har jeg siddet klar med fjernbetjeningen hver mandag aften, når der kom et nyt afsnit. Det er ret sjældent, jeg er så religiøs om en serie – kan normalt godt vente en uge eller to, også selvom Twitter og Facebook flyder over med spoilere.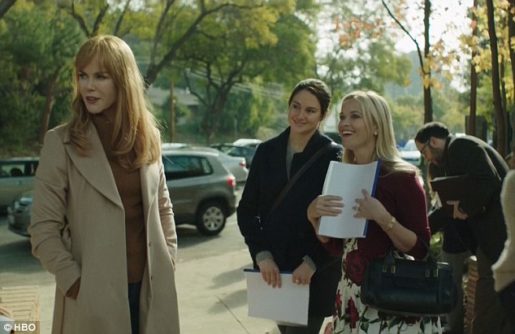 Men denne serie greb mig – og det på trods af, at den faktisk forekommer ret misogyn i de første afsnit. Overklassekvinderne, der står i centrum, er en flok ondskabsfulde bitches, som bekræfter alle fordomme, du nogensinde har haft om rige, hvide kvinder. Det viser sig selvfølgelig, at så enkelt er det ikke, men jeg vil ikke afsløre noget her, hvis du nu ikke har set den.
Witherspoon og Kidman – et powerpar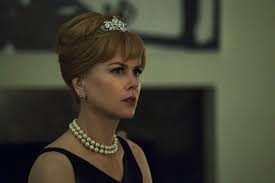 Reese Witherspoon, som jeg ærligt talt ikke ventede mig meget af, er fuldstændig uovertruffen som blondine-über-bitch med dybder, der langsomt åbenbares. Og Nicole Kidman overgår sig selv i sart skønhed med stålkerne. Udover at spille hovedrollerne står de to bag serien, da de sammen købte rettighederne til bogen og også har produceret serien. Den er instrueret af Jean-Marc Vallée og produceret af David E. Kelley, en rutineret tv-serie-rotte. Det spås allerede, at denne serie kommer til at rende med alle Emmy'erne i år.
Det forlyder, at Witherspoon og Kidman er i gang med at producere en sæson 2 – på samme måde som True Detective sæson 2. I dette tilfælde skulle den basere sig på endnu en roman af Liane Moriarty. Men vi er lidt på rygtebørsen her.
#BigLittleLies
Da jeg var færdig med den fuldstændig forrygende sidste episode og lige havde fordøjet den lidt og dissekeret den med en veninde, søgte jeg på #biglittlelies på Twitter.
Me watching the last 10 minutes of #BigLittleLies

— Katie Ambrose (@kambrose201) April 3, 2017

Det gav selvfølgelig en enorm mængde hits, deriblandt finale-anmeldelser fra alle de store amerikanske medier. Nogle af dem er meget interessante og flere har endog meget feministiske agendaer. 👏🏻
*Spoiler-alert* Læs IKKE disse anmeldelser, hvis du ikke har set serien til ende.
Min favorit er fra Vulture – A Commentary on Gender Bias
Vanity Fair, The New Yorker, Huffington Post. Vil du have mere analyse, er der masser på Youtube.