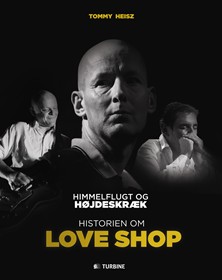 Det her er en særdeles partisk anmeldelse, da jeg jo mildest talt ikke kan siges at være neutral iagttager af fortællingen om Loveshop. Men i al mangel på ydmyghed forestiller jeg mig, at nogle af jer netop gerne vil vide, hvad jeg synes om bogen, fordi jeg selv var med på førstedelen af den færd, som bogen beskriver.
Lad mig bare starte med at sige, at det er en virkelig god bog. God på alle de forskellige måder, der er. Jens siger i indledningen:
"Det har været afgørende for mig, at det hele bliver leveret af en person, der fagligt står for seriøsitet og grundighed."
Forfatteren Tommy Heisz, som jeg ikke kendte, før han interviewede mig, er både en dygtig og flittig researcher (det kan bibliotekar-Néné jo så godt lide) og en kompetent og indfølt skribent. Den kombination er desværre ikke særlig almindelig, og da slet ikke i portræt-genren. Det har været afgørende for både Tommy og Jens, at bogen blev en fortælling om hele bandet, ikke bare Jens' udgave af Loveshops historie. Det er i den grad lykkedes, så vidt det nu er muligt, når de to af medlemmerne ikke er her længere til at udtale sig.
Ydermere har forlaget Turbine virkelig lagt sig i selen, så bogen også er grafisk lækker, indvendigt såvel som udvendigt. Bogens mange fotos er flot præsenteret, og til bogreceptionen sad alle vi gamle rotter og blev rørstrømske over de gamle billeder. Som udenforstående vil man næppe falde helt så meget i svime, men billedudvalget er omhyggeligt og gennemtænkt.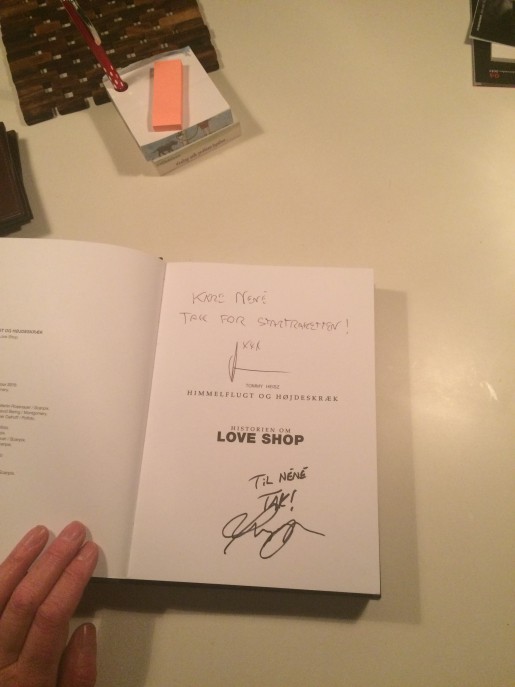 Her kommer, hvad man vel kan kalde et meta-citat, for det er et citat fra bogen, der citerer mig (vi er i 1983 eller 84)…
Det eneste jeg vidste om ham, var, at han hed Hilmer og vist nok var lidt sær. Jeg græd af grin over det navn. Det lød som en eller anden fra en tegneserie. Men så tog Jesper (Siberg) mig med ud i butikken, og jeg kan huske, hvordan Hilmer sad der på trappen ned til kælderen og spillede på guitar. På den der Hilmer-måde. Det lød fuldstændig utroligt. Som om det kom fra en anden planet.
Bogen er et must for alle, der har været og/eller er vilde med Loveshop. Men den er så god, velskrevet og velresearchet, at også mange andre med tilknytning til musikmiljøet vil kunne have glæde af at læse den. Endelig er det også "bare" en god, omend tragisk fortælling om mødet mellem drømmene og den hårde virkelighed.