It's almost become a tradition that I tell about our holidays here on the blog. But as the blog has developed away from the very personal it seems progressively awkward. Anyway, I promise to make it brief and with a digression or two…
We started in the UK where there was another Bar Mitzvah in the family, the fourth and so far last. Just like at the Bar Mitzvah two years ago, I took a picture of the rabbi's legs. And no, it's not the rabbi on the left. It's her on the right.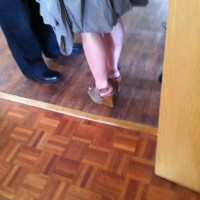 We enjoyed a little time in London, I even found time to meet with some of my lovely Twitter-ladies, described elsewhere on this blog. We also fitted in a bit of shopping…
Off we flew to Switzerland to spend a few days in David's flat. The weather was gorgeous, so we enjoyed a lot of time on the balcony and David and Dane also went swimming in the lake. Our first mission was to visit some friends who we met in the UK, but who have since moved to the south of France. They live in the most gorgeous house in Provence and we spent four lovely days with them.
As those of you who know me well will know, we, like so many other from the middle classes, have a penchant for Tuscany. We've been there 4-5 times before but still chose to go again. We'd rented a flat at an Agri Turismo place which was quite nice, but not fantastic. As we've seen most of the sights more than once before, we took it rather easy and spent most mornings leisurely at the pool. One of the highlights was a visit with my old friend Helle Tesio and her husband Alfredo. We go more than 30 years back. Helle took us to Fattoria del Colle in Trequanda where she teaches advanced Italian cooking to groups of agri-tourists. I so want to go on that course!
Unfortunately, towards the end of the holiday, Dane got ill (something that practically never happens), and he was really rather poorly. So it was a long journey home where it, to sort of further the misery, rained constantly between Genoa and Geneva. It turned out that what Dane had was the flu, which he generously passed on to David and me once we were back in Coppet. So a few days were torn out of the calendar.
Dane and I are back now in Denmark where it is gloomily wet and only warm when the sun is out and where our basement was flooded once more. I've had the wood burning stove lit already!
Today I was reminded of our trip to Australia in 2008. The reminder was a talk about cake. When we were there, we were rather surprised by their consistently excellent coffee *flat whites* and the ubiquitous banana bread which is served warm with butter. When we came back, Dane asked me to bake it and I baked a random banana cake. It wasn't right. Baked my way through numerous banana cake/bread recipes before I found one that Dane could approve of. So I baked one today. Here's the recipe:
Banana bread
* 265g (1 3/4 cups) self-raising flour
* 40g (1/4 cup) plain flour
* 1 tsp ground cinnamon
* 140g (2/3 cup, firmly packed) brown sugar
* 125ml (1/2 cup) skim milk
* 2 eggs, lightly whisked
* 50g butter, melted, cooled
* 2 overripe medium bananas, mashed
1. Preheat oven to 180°C. Brush an 11 x 21cm (base measurement) loaf pan with melted butter to lightly grease. Line the base and 2 opposite sides with non-stick baking paper, allowing it to overhang.
2. Sift the combined flours and cinnamon into a large bowl. Stir in the sugar and make a well in the centre. Place the milk, eggs, melted butter and banana in a medium bowl, and stir until well combined. Add the banana mixture to the flour mixture and stir until just combined. Spoon the mixture into the prepared pan and smooth the surface.
3. Bake in preheated oven for 45-50 minutes or until a skewer inserted into the centre comes out clean. Remove from oven and set aside in the pan for 5 minutes. Turn onto a wire rack to cool completely. Cut into slices to serve.