I går fik min søn en advarsel mod en SMS-virus fra to af sine kammerater. Der stod sådan her:
Hej… Advar alle du kender imod at svare på en sms fra 20(…) og 51(…) det kan koste dig 2500 kr. Det er lige sagt i P3 (Send videre).
Denne "advarsel" har jeg sporet tilbage til 2006, måske er den endnu ældre. Den er opfundet af nogle ondskabsfulde mennesker, som et mobningsredskab over for folk de ikke bryder sig om. Telefonnumrene er skiftet ud nogle gange i løbet af SMS'ens levetid. Heldigvis kom min søn til mig, inden han sendte den nogen steder hen, men hans to kammerater er enten ikke gået til deres forældre, eller forældrene har glemt at tænke sig om og er hoppet på limpinden. Prøv engang at tænke over, hvor mange der er hoppet på den limpind, når den har cirkuleret siden 2006 (mindst)?
Jeg vil gerne slå fast, at det stadig er sandt, at man ikke skal tro på alt, hvad man hører (eller læser). Det er dog blevet meget nemmere for den enkelte borger at checke, om den slags rundsendte beskeder har noget på sig. Det nemmeste er at smide hele teksten ind i Google. Prøv fx at gøre det med ovenstående. Et af de nedslående resultater er fra denne landbrugsskoles hjemmeside, hvor redaktøren har indsat teksten som en advarsel til skolens elever og dermed sanktioneret dette ondsindede vrøvl.
Får man advarsler/sygdomshistorier/politiske opråb etc., der er rundsendt via mail uden datering og troværdig kildegengivelse og uden egentlig afsender, er der god grund til at tro, at der er ugler i mosen.
Læg mærke til
hvem er den oprindelige afsender? Fremgår det?

er der en form for datering?

er det helbredsråd, som du aldrig før har hørt om?

hænger mailen en bestemt befolkningsgruppe ud med tal og "statistik"?

er teksten på engelsk eller på ubehjælpsomt dansk?

hvis det er en virusadvarsel, kommer den så fra din bank, din internetudbyder, en troværdig nyhedskilde eller en IT-prof, du stoler på?
Udover at smide teksten ind i Google og se, hvad der dukker frem, er der også specialiserede hjemmesider, man kan "spørge". Er teksten på dansk, skal den måske lige en tur gennem Google Translate til engelsk, inden du tester den, men prøv endelig at Google den på dansk først. Rigtig mange af de "advarsler", der florerer, er gamle som Metusalem.
Der er en side, der hedder Hoax-slayer – man skal ikke lade sig narre af sidens amatøragtige layout – det er ikke udseendet, der ligger ophavsmanden på sinde. Der fandt jeg oprindelsen til en e-mail, rundtsendt af min svigerfar (fra England). Han havde selv fået den fra sin svigerinde og de havde begge sendt den til alle på deres mailing-liste. Med den fart har denne ondsindede misinformation nok ramt samtlige postkasser hos hvide pensionister i England.
Der står bl.a. sådan her: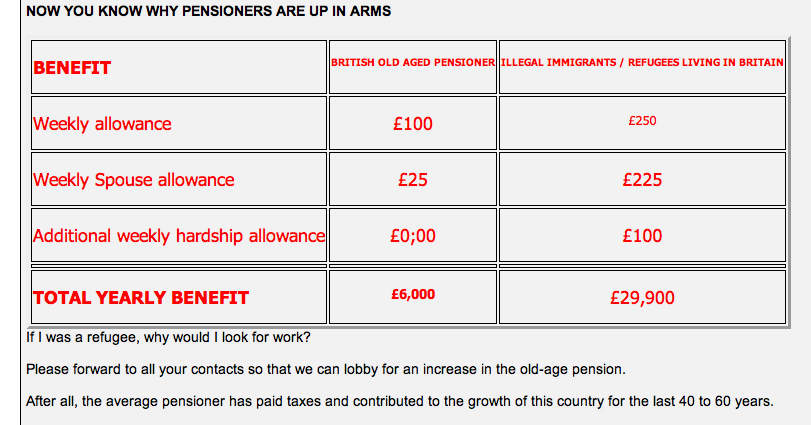 Her kan du læse Hoax-Slayers redegørelse for, hvor e-mailen kommer fra (Australien, 2004) og hvem der gladeligt puster til ilden (BNP (British National Party) og ligesindede). Det er sørgeligt, at der overhovedet er nogen, der falder for, at flygtninge skulle modtage 4 1/2 gang så meget i offentlige ydelser, som en britisk pensionist, men hvis det er det nemmeste at tro på?
For nogle år siden fik jeg et link til en Powerpoint, der angiveligt forklarede, hvad man skulle gøre, hvis man fik et hjerteanfald, mens man var alene – fx. i bilen. Mailen var videresendt af en veluddannet bekendt. Vejledningen gik ud på, at man skulle hoste… Ja ja, du griner, men denne Powerpoint har cirkuleret på nettet siden 1999! Alle læger, der hører om den eller ser den, tager sig til hovedet, og man ser for sig, hvordan en person alene hjemme oplever smerter i armen og hjertet og giver  sig til at hoste i stedet for at ringe efter en ambulance! Læs her på Snopes.com – et andet godt sted at checke sludder og vrøvl – om denne e-mail-scam.
Mit budskab er, at det godt kan være, du ikke selv falder for historier som "hvis du "liker" den her side, får du 20$ af Microsoft", men har du husket at tale med dine børn om den slags, der florerer som SMS, på Facebook, på mail, men skam også stadig som almindelige vandrehistorier fra mund til øre?
I dag er det let at sætte sig sammen med barnet og spore oprindelsen til den slags historier og få sig et godt grin eller sammen undre sig over, hvad det er for nogle ubehagelige typer, der opfinder den slags. Og dit barn vil have lært en lektie for livet.