I wish.
I'm a great spokeswoman for not regretting. If I didn't already have another motto, it would be "je ne regrette rien". Regret is futile, a complete waste of time. Only thing you can use it for is saying, like: "Oh, that turned out to be a really stupid idea. What can I do to get out of this jam and/or what can I learn from it, so I use better judgement next time 'round."
So – I don't really regret anything. Except not finishing university, when I was young. Sure, it would have changed the course of my life completely, and a lot of funny, interesting and wonderful people wouldn't have crossed my path. But still…
And trotting around Cambridge and the Harvard campus for the better part of a day certainly made me think of that every other minute. I wonder if these young people, carelessly sitting around studying in the park, on their computers in chic cafés, jogging with their I-pods or going out with their friends realize just how privileged they are? Not only are they going to university, and for most of them, Daddy is paying, they are also going to one of the most prestigious universities in the entire world, and their futures look more than promising! Oh well, it would be a pity, I guess, if they had to drag a guilty conscience around with them for being so privileged. The rest of us are ourselves trying to not have a guilty conscience over not starving in Africa, aren't we?
Anyway, we had gorgeous weather and fantastic circumstances to experience Cambridge and Harvard. There was a regatta going on, so the entire town was crowded with an additional bunch of privileged, beautiful youngsters – they came from all over America with their sleek rowing boats on top of their expensive cars. Everybody were out, strolling along Charles River, taking it all in. We spent an hour or so (could have been much, much more) in the Co-op bookstore cum café. I wondered if I could be happy working in a place like that? Talking to all those brilliant young people every day, helping them find just the right book for whatever purpose? I don't know. I get bored so awfully easy…
That same evening we sent Emil back home. He had a (too) long and tiring journey because of a cancelled flight from Germany to Copenhagen, but got home safely. We're looking forward to seeing him again, next time together with sweet Ida, at Christmas in San Francisco.
Also, on that same evening, the Red Sox won the decisive game in the seven game stint against the Cleveland Indians. Our friend Matt grinned, when we told him this: Dane was sleeping outside the RV in his new tent. We
were inside, watching the game. A while into the game, it looked like the Red Sox were running out of luck, they were only one point ahead, and the Indians were doing well. I noticed Dane's Red Sox shirt on the chair and jokingly said to David, that it was probably because Dane wasn't wearing his shirt, which he'd worn for the two previous games. David took the shirt and went out to the tent and put it on top of our sleeping mascot. And from that moment on, the Red Sox were just unstoppable. And so, why did Matt grin? He grinned because when he heard that, he knew we were hooked. It's a sure sign, he chuckled, that you're hooked, when you become superstitious!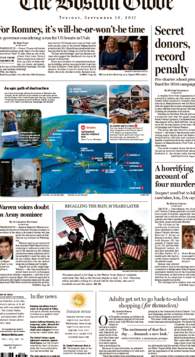 There's something about baseball that I haven't seen in any other sport. It's such an interesting combination of skill, talent, technique, cunning and tactics! Some players are like most other professional sportsmen, young, trim, skilled. But a good deal of them could definitely lose a few pounds without becoming skinny exactly, and some of them are close to our age. Try it! We're trying it again tonight, when Red Sox play the first game in the World Series. Matt and Jackie got tickets – we'll be looking for them throughout the match and hoping they won't be hit by a home run.
Good luck, Red Sox!